NEW APARTMENTS IN BIAŁOŁĘKA
"Odkryty Zakątek" in one of the newest investments of Kalter Real Estate. It is located in the highly attractive area of "Nowodwory" in Białołęka district of Warsaw. It is yet another investment in the well-known and well-received small residential areas in "Tarchomin" and "Nowodwory" regions of Białołęka district.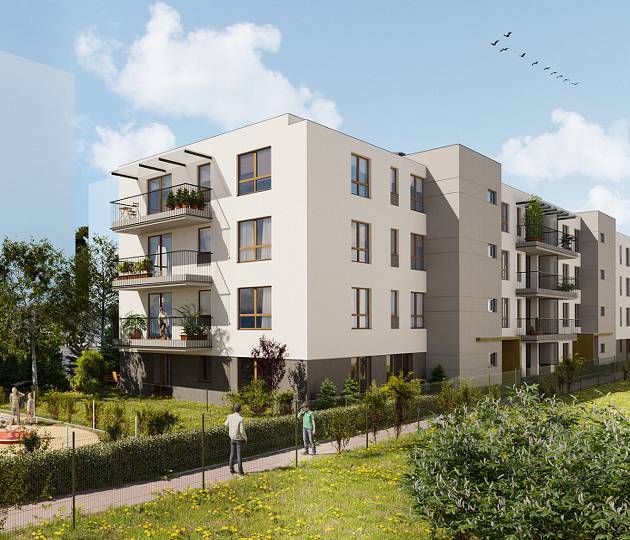 Classic in a Modern Style
Our investment is futuristic in the exact meaning of the word. It combines classical forms with current architectural trends. This makes "Odkryty Zakątek" fit in perfectly with the surrounding architecture, as well as with the architecture of the capital. New apartments in Warsaw were designed to best suit the needs of the buyer. All that thanks to their convenient placement - within a short distance there are shopping malls as well as recreational sites near the Vistula basin and its old river bed. Public transport provides excellent and fast access to the very centre of the city.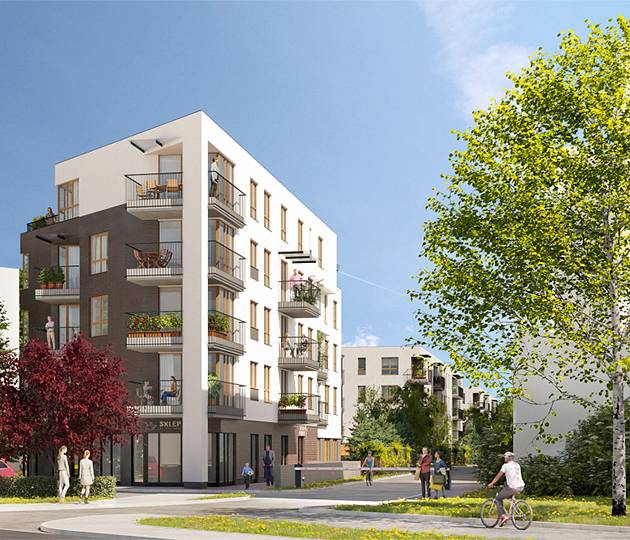 Functional Apartments
"Odkryty Zakątek" is located in one four-story and two three-story buildings with elevators, where our clients can find 86 two, three and four-room apartments, ranging from 43 to 108 sqm. The apartments are designed to best suit the needs of the buyer. They feature excellent use of living space while maintaining room functionality and comfort, as well as a variety of arrangement solutions.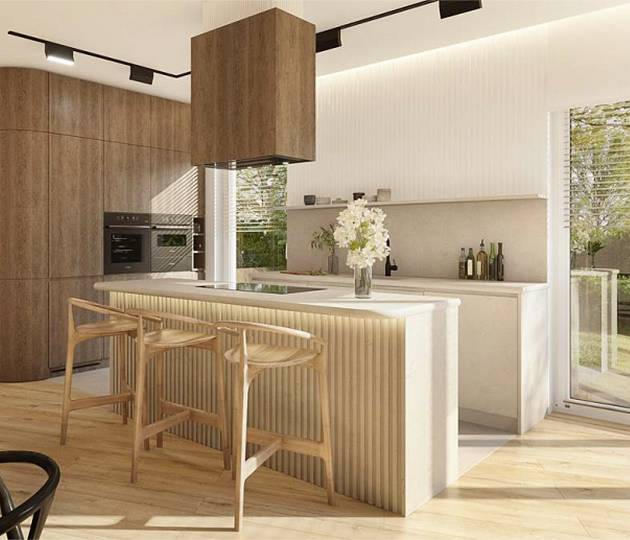 Well-designed Facilities
We offer a variety of new apartments in Warsaw. In "Odkryty Zakątek" you can find apartments with two bathrooms, a bathroom and separate toilet, a wardrobe, a laundry room, a kitchenette or a kitchen. Many service facilities have been designed, most practical of them being private parking places in the underground parking area.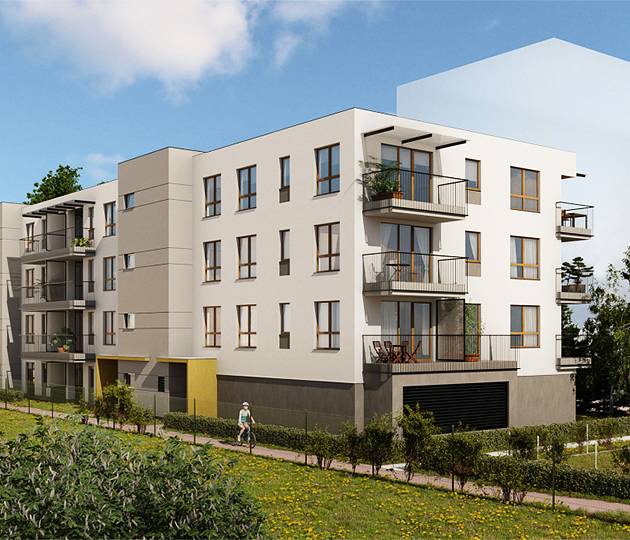 Comfort and Convenience
In our newest investment there are many apartments with spacious balconies, terraces and private gardens. Thanks to them one can enjoy the wonders of home life in the suburbs in close contact with nature.
Our prospective buyers will greatly benefit from service units conveniently located on the ground floor of the first and the tallest building of the entire investment. We have decided to place them there in order to give the buyer easier access to everyday items and services. In the investment there also are bike parking places and storage rooms conveniently placed on the ground floor and in the underground parking hall.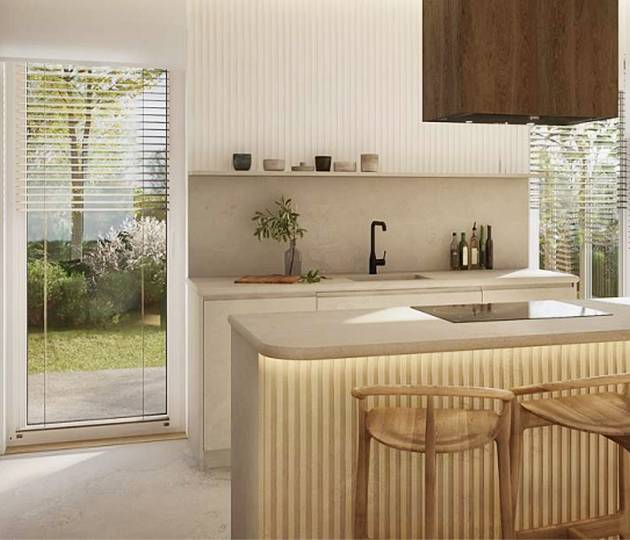 Safe Playground
"Odkryty Zakątek" houses a large and safe playground - gated and monitored. The terrain around the buildings is filled with lush greenery and street furniture. Safety of the investment is guaranteed by a modern monitoring system, access control and intercoms. Furthermore, the residents will benefit from the access to cable, satellite and digital TV directly from the building.
We plan to complete to construction work in III quarter of 2022.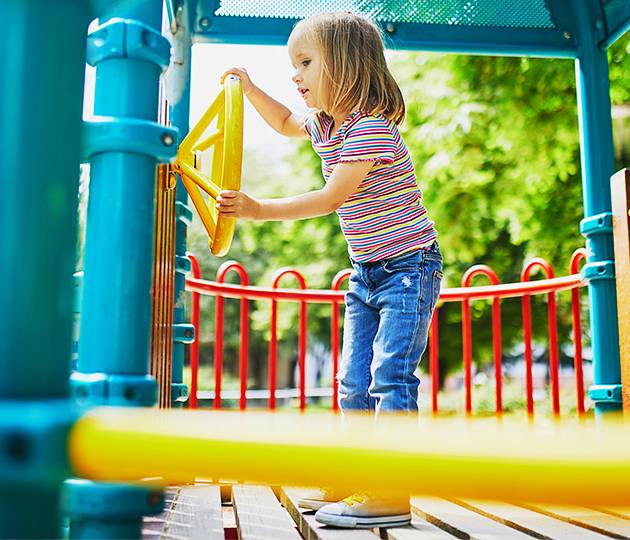 NOWODWORY BIAŁOŁĘKA
"Odkryty Zakątek" investment is located on the 50, 50A and 50B street Odkryta street in the Nowodwory region of Białołęka district of Warsaw. It is one the youngest but also the largest districts of the capital. Divided into different regions, each of them offering different ways in which you can enjoy the nature. From here you can see the basin of the Vistula river as well as its old river bed perfectly. You can rest in Strumykowa park which is located close to the investment. Kępa Tarchomińska also offers a quiet place of relaxation.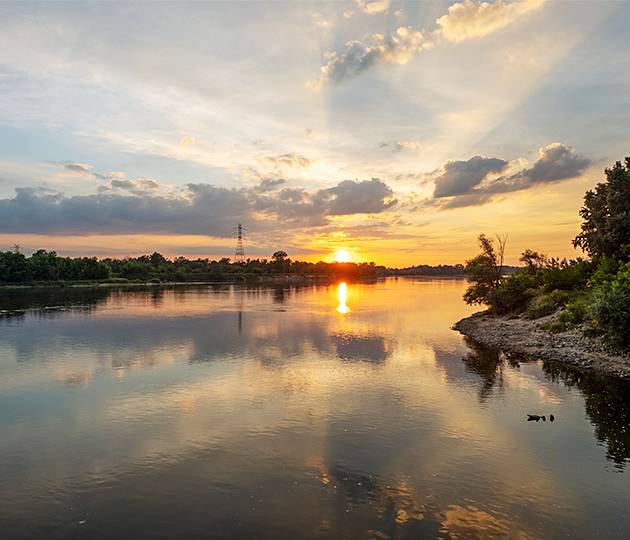 GREEN NEIGHBORHOOD
In the proximity of the investment you can find a lot of attractive sites. The most interesting of them being the Ławice Kiełpińskie nature reserve and beaver lodges. It is a great place to spend time actively taking a biking trip or a family picnic.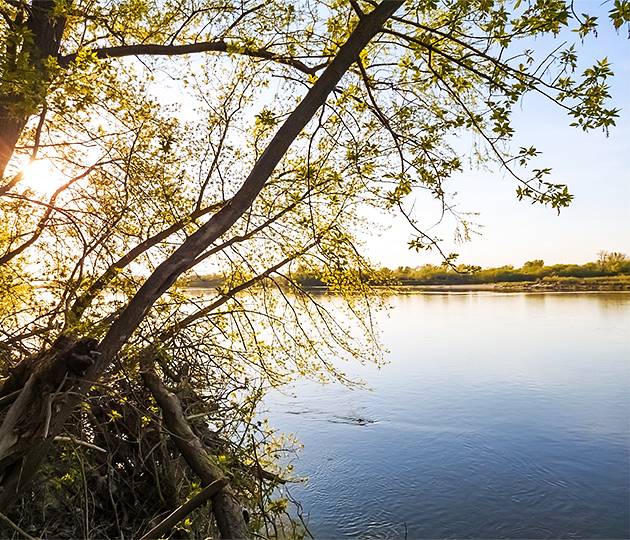 RICH INFRASTRUCTURE
"Odkryty Zakątek" is a unique place with a highly advanced network of public transport. You can get to the city centre and back with ease. Thanks to the convenient location of the investment - close to the main Tarchomin street, Światowida street, connected with the North Bridge and Wislostrada - it makes it easy to get from point A to B in no time, either by car or using public transport.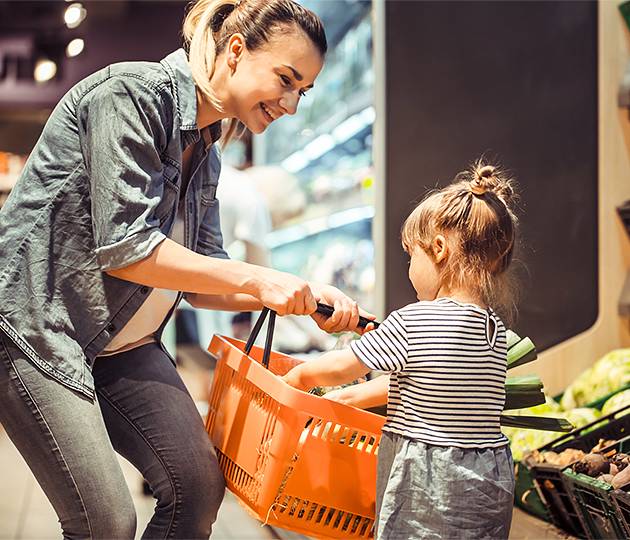 "Odkryty Zakątek" is also a place where its residents can take advantage of a wide range of educational institutions (crèches, kindergartens, elementary schools), sports facilities (a pitch, a sports hall, a swimming pool) and services (discounts, markets, shops, restaurants, cafes, medical centres, pharmacies, etc.),particularly those located in a shopping mall along Światowida Street, which runs next to the investment. Within a short distance there is one of the most modern and largest shopping centres in Warsaw – Galeria Północna with the access to over 200 shops and shopping areas, cinemas, a fitness club and children's indoor playground.
Nearby facilities:
• Bus stop lines: 516, 518, N13: 100 m
• Bus stop lines: 126, 211, 186, 509, N01, N03, N63: 200 m
• Tram stop line 2: 200 m
• recreation areas along Vistula river: 250 m
• shopping centre: 2 km
• crèche: 200 m
• kindergarten: 400 m
• primary school: 600 m
• grocery: 200 m
• local shop: 100 m
• church: 700 m
• children's playground: 850 m
• medical centre: 50 m
Our professional and highly qualified managers, designers, sales assistants and engineers can guide you safely throughout the investment process.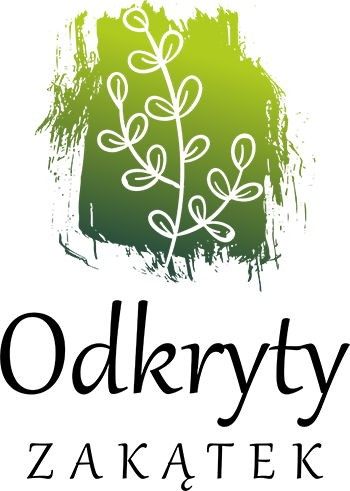 Sales Office in Warsaw
00-834 Warszawa
ul. Pańska 98/106 Street

tel: +48 22 509 72 72
mobile: +48 539 975 771

e-mail: warszawa@kalternieruchomości.pl

woking hours:
Mon.-Fri. 10.00-18.00